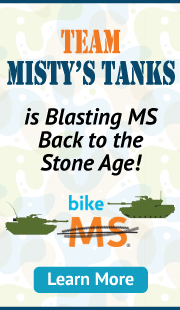 Since 2004, BAL has actively participated in the annual Bike MS: Deception Pass Classic, and this year is no different! One change though is our old team name "Pedal to the Metal" is now "Misty's Tanks." Those of you who know Misty Kennard-Mayer on our staff and this event's Ring Leader, Frank "the Tank" McFarland, will know why BAL staff and friends will ride, volunteer, and help raise funds for the National Multiple Sclerosis (MS) Society to help support the vision of a world free of MS.
Multiple Sclerosis is an unpredictable and often disabling disease of the central nervous system that disrupts the flow of information within the brain, and between the brain and body. More than 2.3 million people are known to be affected by MS worldwide and the cause is still unknown; scientists believe the disease is triggered by an unidentified environmental factor in a person who is genetically predisposed to respond. Clearly, there is still a long way to go, but research breakthroughs are driving new therapies at an amazing rate. With funding generated from events like Bike MS we are changing the lives of people affected by MS and helping fuel progress for those impacted by this disease!
The Deception Pass Classic is a two-day journey through Skagit, Whatcom, and Island Counties in Washington State. BAL has been part of this ride for 14 years in an effort to support family, friends, and coworkers that have been diagnosed with the disease. The ride provides plenty of breathtaking views and supports an amazing cause. If you want to ride with us this year or add your support to our Misty's Tanks Team, then we invite you to join us here!