About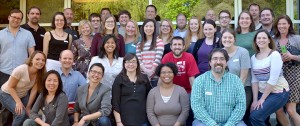 Brooks Applied Labs was formed in 2015 through the merger of the two industry-leaders in the field of specialty trace metals analysis and metals speciation: Brooks Rand Labs & Applied Speciation and Consulting.
Since 1982, Brooks Rand Labs (BRL) specialized in providing the highest quality trace metals analytical services. While many labs have just recently begun to offer methods for low-level metals determination, BRL has been offering low-level mercury and methyl mercury analytical services for well over three decades! Low detection limits, outstanding data quality, and unparalleled customer service established BRL as the premier specialty metals analytical services provider with the capability to accommodate complex deliverable requirements and conformance with EPA-approved methods. Throughout the late 1980's and 1990's, BRL contributed to the development and validation of many of the EPA 1600-series methods that are commonly used for low-level metals and metal speciation analyses today.
Applied Speciation and Consulting (ASC) was founded in 2004, immediately becoming the premier lab in the US for the speciation of metals using ion chromatography coupled to ICP-MS. Instead of a focus on conformance to promulgated methods, ASC emphasized scientific understanding and the development of the knowledge and experience necessary to ensure results were accurate and representative in even the most complex of matrices.
Today, Brooks Applied Labs provides Meaningful Metals Data and Advanced Speciation Solutions to hundreds of projects worldwide, and we are very dedicated to staying in our niche. Many members of our staff, from the Sample Disposal Technician to our CEO, are seasoned veterans in the world of ultra-trace metals analysis and metals speciation. Together we work to provide thoroughly ultra-clean and pre-tested sampling equipment, fast turn-around-time options, high-quality validated data, and custom reporting packages at competitive prices to ensure that our clients receive the data and consulting they require to make critical decisions.
The Brooks Applied Labs Mission
Our mission: to provide the highest quality analytical services for trace metals and metals speciation customized to address the needs of our clients.
Our vision: to support better environmental, human health, and scientific decision-making by providing high-quality analytical services for metals in a workplace that is healthy, respectful, fun, and intellectually stimulating for our employees.