In The Field: Environment and Climate Change Canada Sampling in Alberta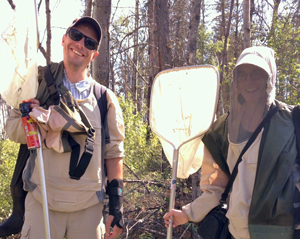 In late June, Brooks Applied Labs' Tiffany Stilwater was lucky enough to assist with Environment and Climate Change Canada's annual field monitoring of wetland ecosystems in Northern Alberta and the Northwest Territories. Field sampling has occurred yearly since 2012 and the data supports The Joint Canada-Alberta Implementation Plan for Oil Sands Monitoring, which assesses spatial and temporal trends of oil sands-related contaminants in the wetlands and indicator species. Pretty cool, eh?
During her weeklong stay, Tiffany not only survived the black flies, but helped deploy DGT and SPMD units (passive samplers for metals), as well as assisted in the collection of water quality samples and wood frog specimens for contaminants analysis. Tiffany's trip was enhanced by the company of Lukas Mundy (biologist with Environment Canada) and Dr. Danna Schock (professor/researcher with Keyano College). The opportunity to visit clients she worked with for years was priceless!