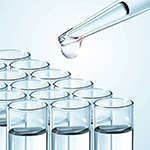 Recently, there have been growing concern related to cobalt (Co) exposure through supplement intake and in patients receiving metal hip implants made with a Co-alloy material, prompting an investigation into analytical methodologies for the determination of total Co in biological fluids. Co is a component of cyanocobalamin and is necessary in the production of hemoglobin and red blood cells. In coordination with
Exponent
 and 
Cardno ChemRisk
, two scientists from Brooks Applied Labs (formed through the merger of Applied Speciation & Consulting and Brooks Rand Labs), Russ Gerads and 
Dr. Hakan Gurleyuk
 designed an investigative study to compare sample preparation methods and analytical technologies available to commercial laboratories for the analysis of Co in whole blood, serum, and synovial fluid at low concentrations (< 5 mg Co/L). In the recent issue of Toxicological & Environmental Chemistry, the results of this study were published. The conclusion identifies the comparability of the methods and platform technologies and pinpoints the significance of ultra-trace sample handling and preparation procedures. 
Contact us
 today to learn more about the article and to find out more about how Brooks Applied Labs can support your investigative 
biomonitoring studies
 assessing human exposure to toxic metals and their potential health effects.