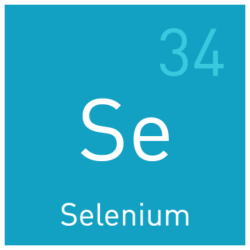 Although
selenium
is a component of many minerals, it is only the seventieth most abundant element in the earth's crust and occurs mostly in small crystals and in small quantities. It typically only occurs at elevated concentrations in the environment as a byproduct of anthropological activity. An essential micro-nutrient, selenium becomes toxic to most eukaryotic organisms at relatively low concentrations.
Selenium testing for total recoverable concentrations by conventional ICP-MS techniques is extremely prone to mass spectral interferences. The plasma gas (argon) and constituents of the sample matrix (calcium, carbon, chloride, sulfur, etc.) can easily combine to form polyatomic ions with the same mass-to-charge ratios as the various isotopes of selenium, resulting in false-positives and elevated detection limits.
The table below lists the different isotopes of selenium and the common interferences that can affect measurements at those isotopes.
The topic of selenium has garnered attention in various industries for decades now, but the challenge associated with removing selenium from wastewaters has not diminished. In order to understand the most effective form of treatment for this unusual element that is...